Mobile and fixed coverings
Industrial covers represent an ideal solution to protect vehicles, structures and people from bad weather.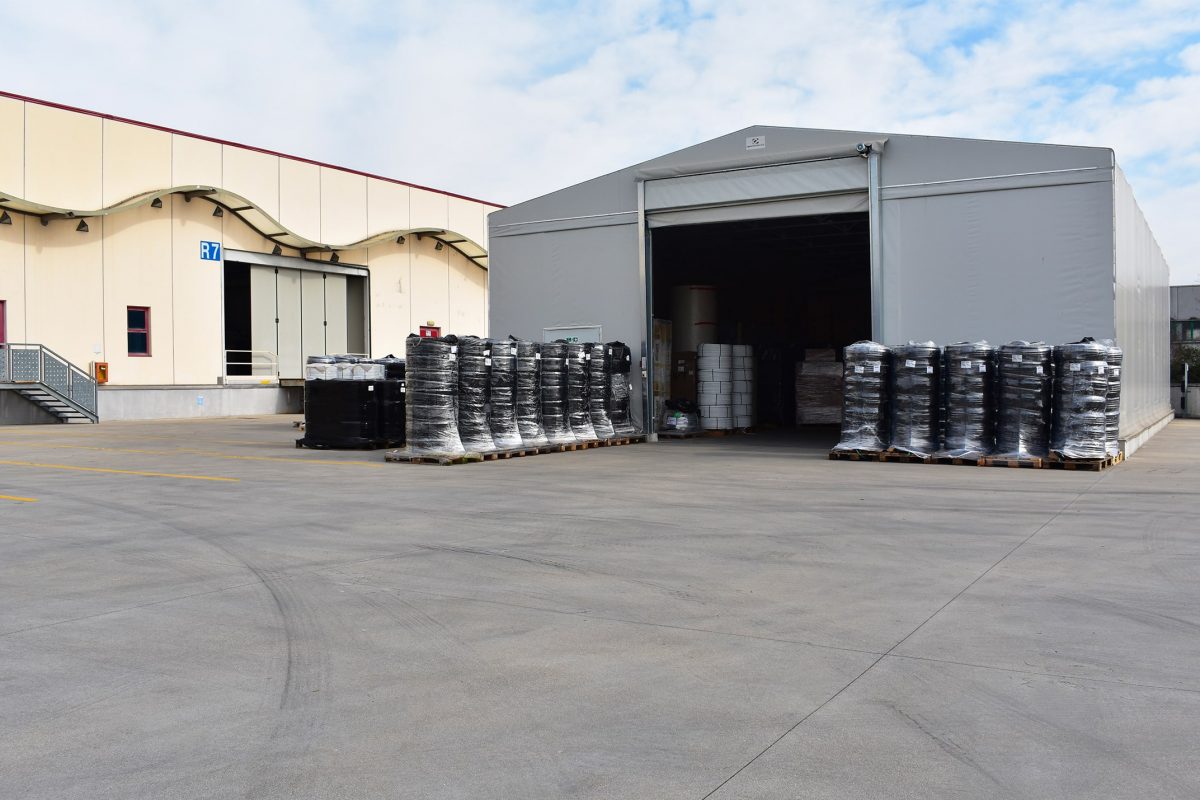 The industrial covering makes the space outside the company protected and usable, extending in this way the useful surface for logistical and operational destinations.
The numerous coverage variables satisfy the different demands of the market in an exhaustive and functional way.
It is possible to use mobile structures to extend existing storage areas or to create temporary ones in case of exceptional needs.
---
Service & Engineering
Thanks to our Service & Engineering division, our experts are on hand to respond to any needs or technical issues.
Download the brochure
Ask for a quote or free consultation
Contact us without obligation for more information or to receive a quote.
Warehouses and mobile tunnels
Mobile industrial warehouses suitable for the preservation of goods during loading / unloading or storage.
Mobile industrial warehouses suitable for the preservation of goods during loading / unloading or storage.
The mobile tunnels consist of a load-bearing tensile structure made of tubular structures with calculated dimensions.
The structure consists of an extendable and sliding tunnel, whose particularity is dictated by the construction of hot-dip galvanized steel with profile and shaping sized according to the width of the structure to be built in order to obtain adequate resistance.
The polyethylene and P.V.C. cloth is made with approved class 2 fire resistance material available in various colours. Industrial tunnels represent the ideal solution for companies that need to protect goods loading and unloading areas from bad weather, for temporary storage and to protect vehicles.
Warehouses with pvc coverings can be divided in 6 models:
Specifications
Self-supporting:
without physical connections to existing buildings, closed along the length, open at both ends to allow entry and exit with the possibility of closing with sliding curtains or rapid doors
Frontal:
built in front of an existing building, extendable and closable
Lame:
placed laterally to an existing building, characterized by the side adjacent to the wall of the structure that remains visible
Connecting
inserted between two buildings, it guarantees total protection from atmospheric precipitation by creating a passable tunnel.
Type Canopy
installed close to the walls of an existing building, totally passable as it has no continuous walls.
Garage
created to contain vehicles such as campers, tractors and all kinds of bulky vehicles. White lacquered aluminium structure with galvanized steel pantographs.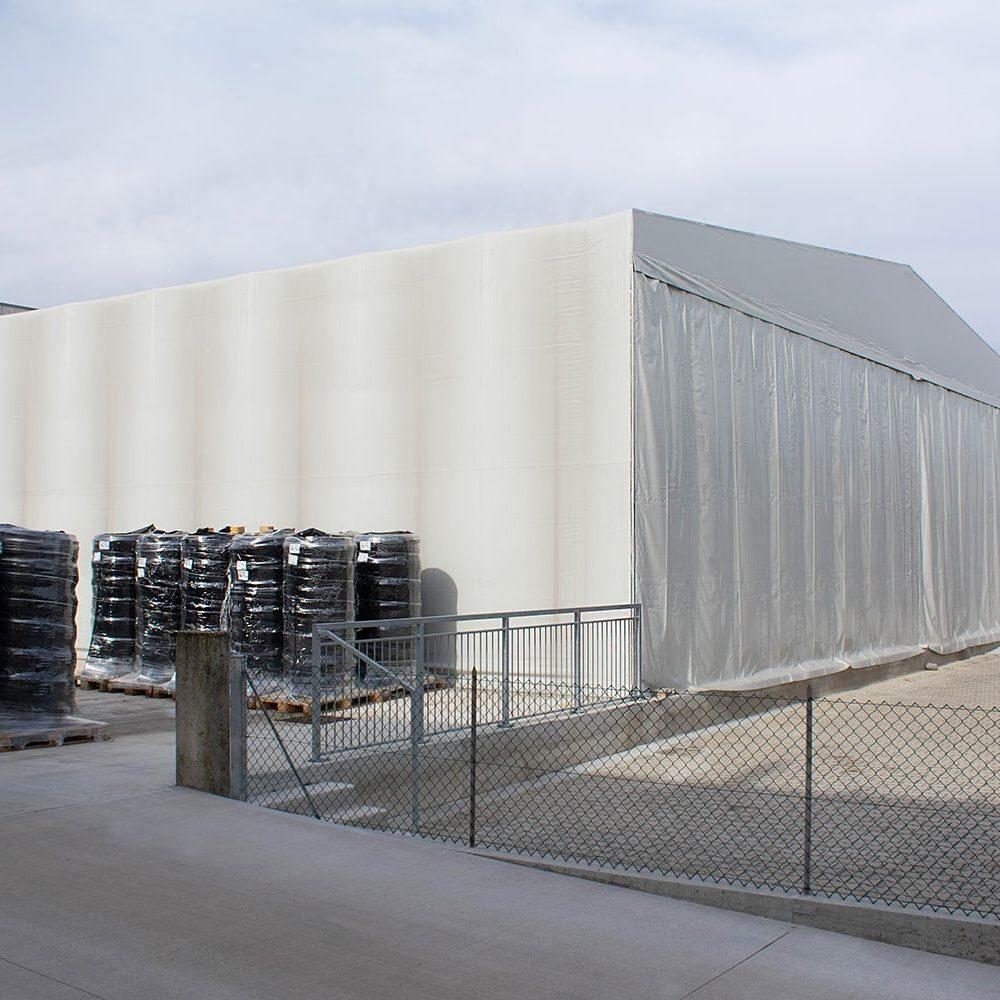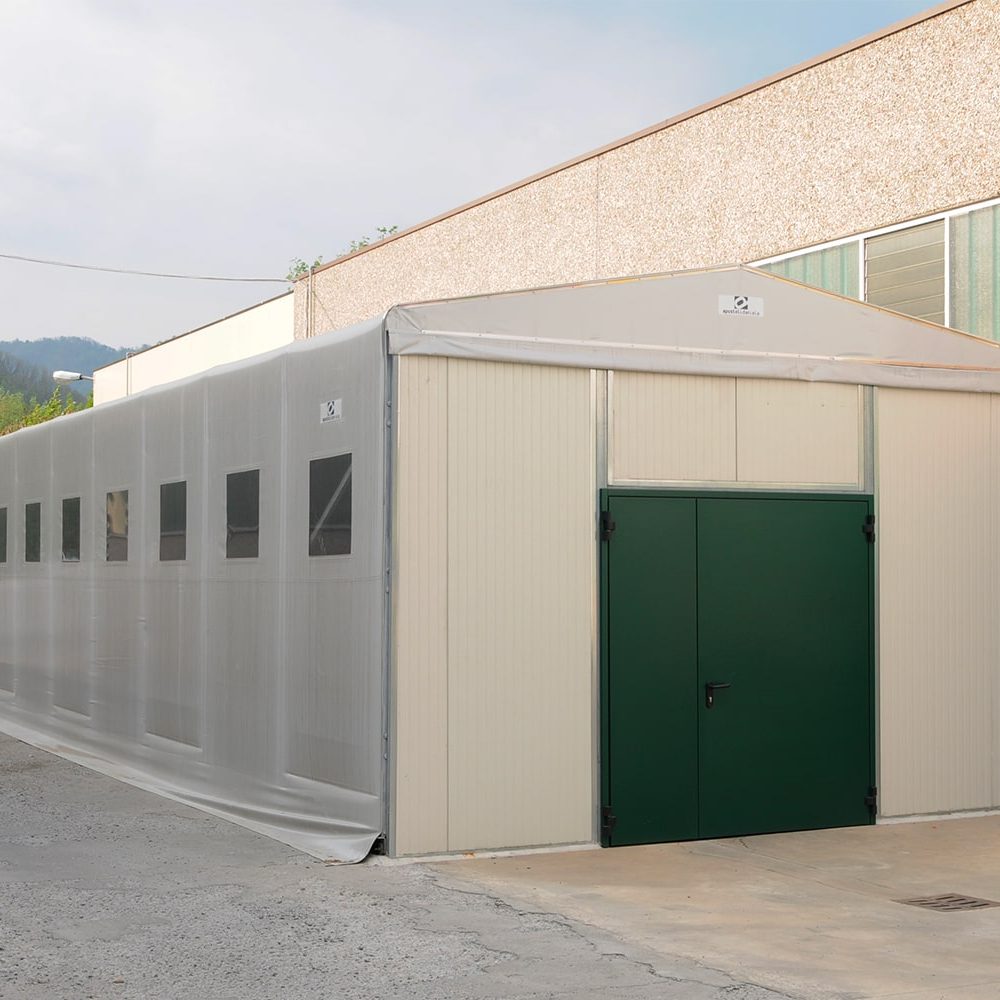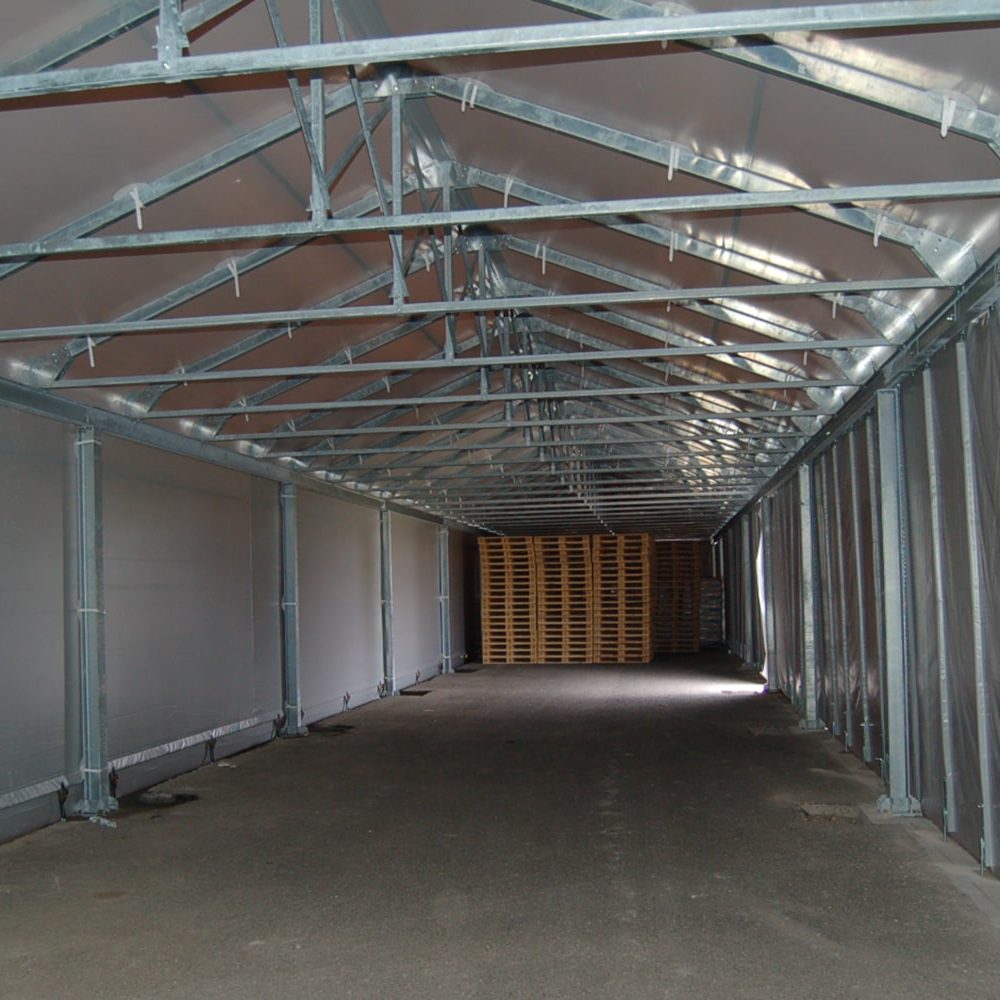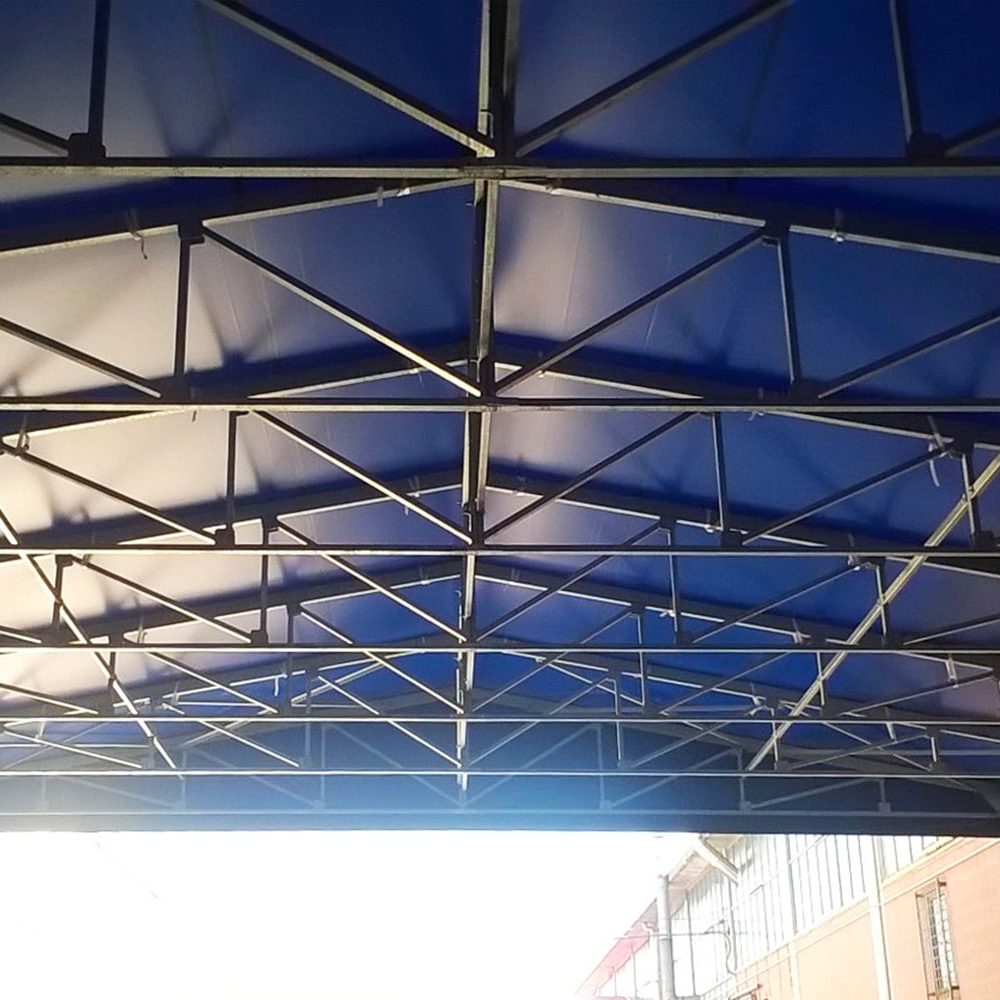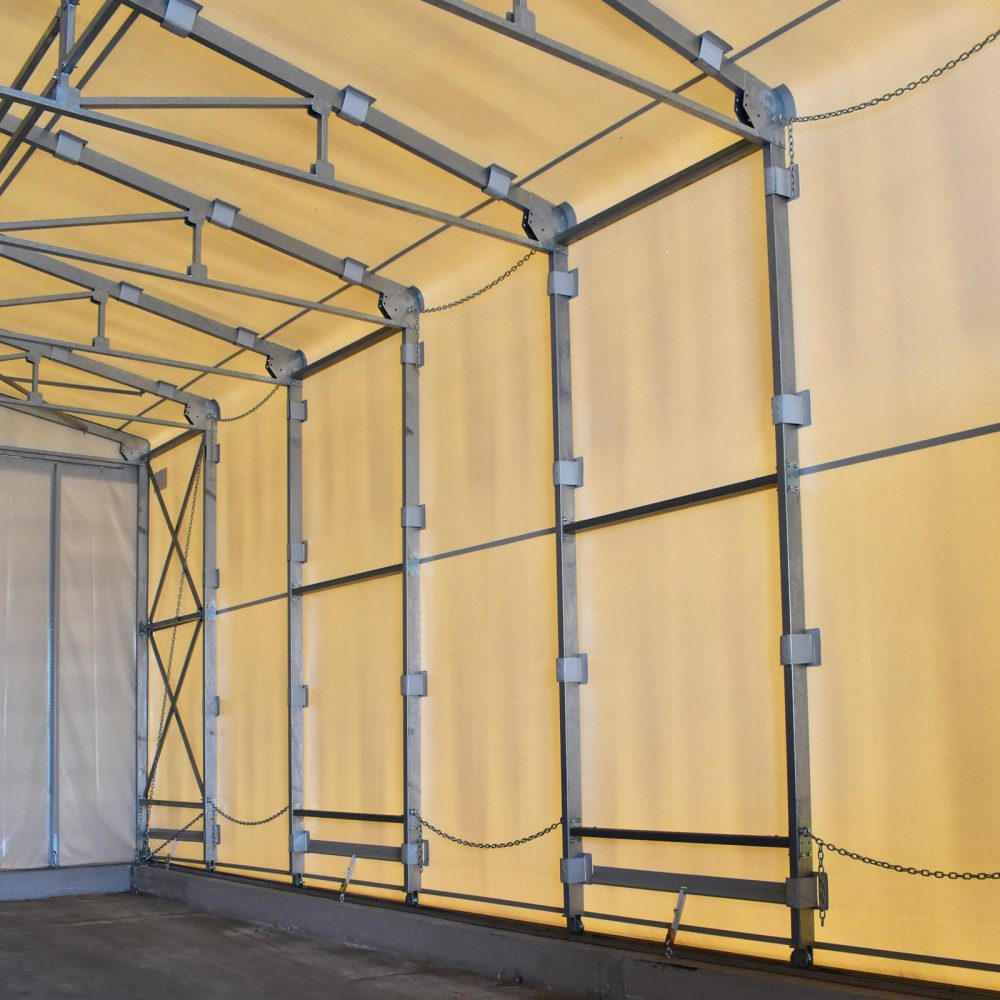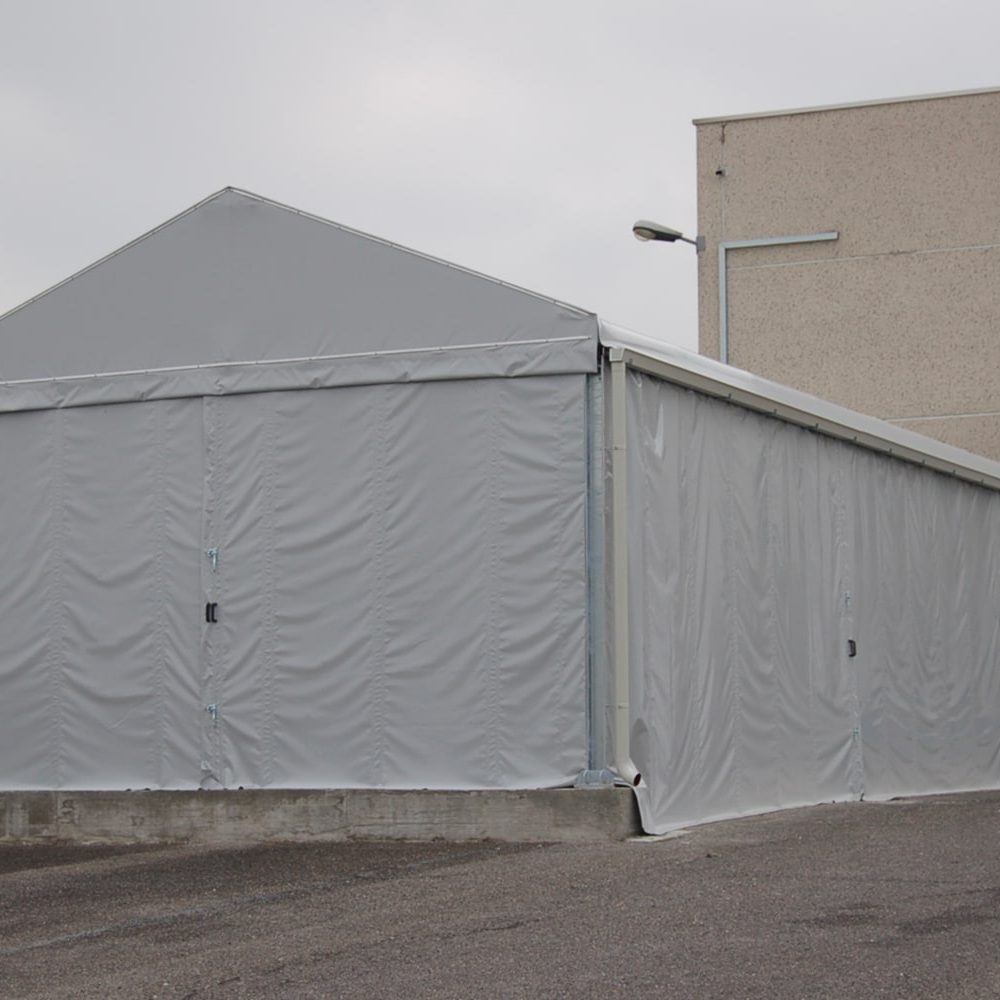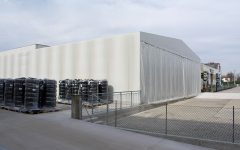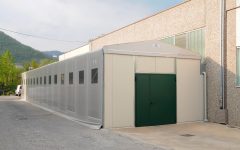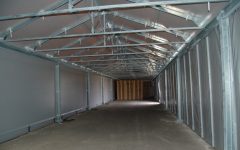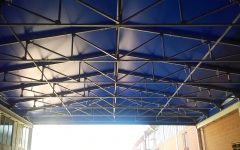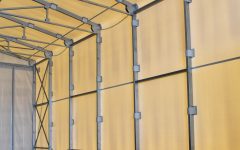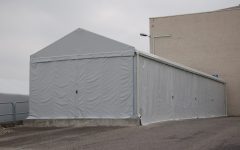 Modular gazebo
Gazebo for cars, camper and means of transport in general
The modular gazebo is a structure suitable for vehicles and industrial spaces protection.
They are gazebos for cars and means of transport with painted tubulars and self-extinguishing class 2 PVC cover, assembly and installation on a paved or concrete square. The cloth colour is white.
Specifications
Fixed installation
both on plinths and concrete foundation, fixed to the ground with plates.
Optional:
lighting electrical system ballast with flowerpots
Technical notes
Wind resistance 115 km/h Snow load 130 kg/mq Standard dimensions 5x5, 6x6, 8x6, 9x6 m (Possibility of customised dimensions max. 9x6 Mt)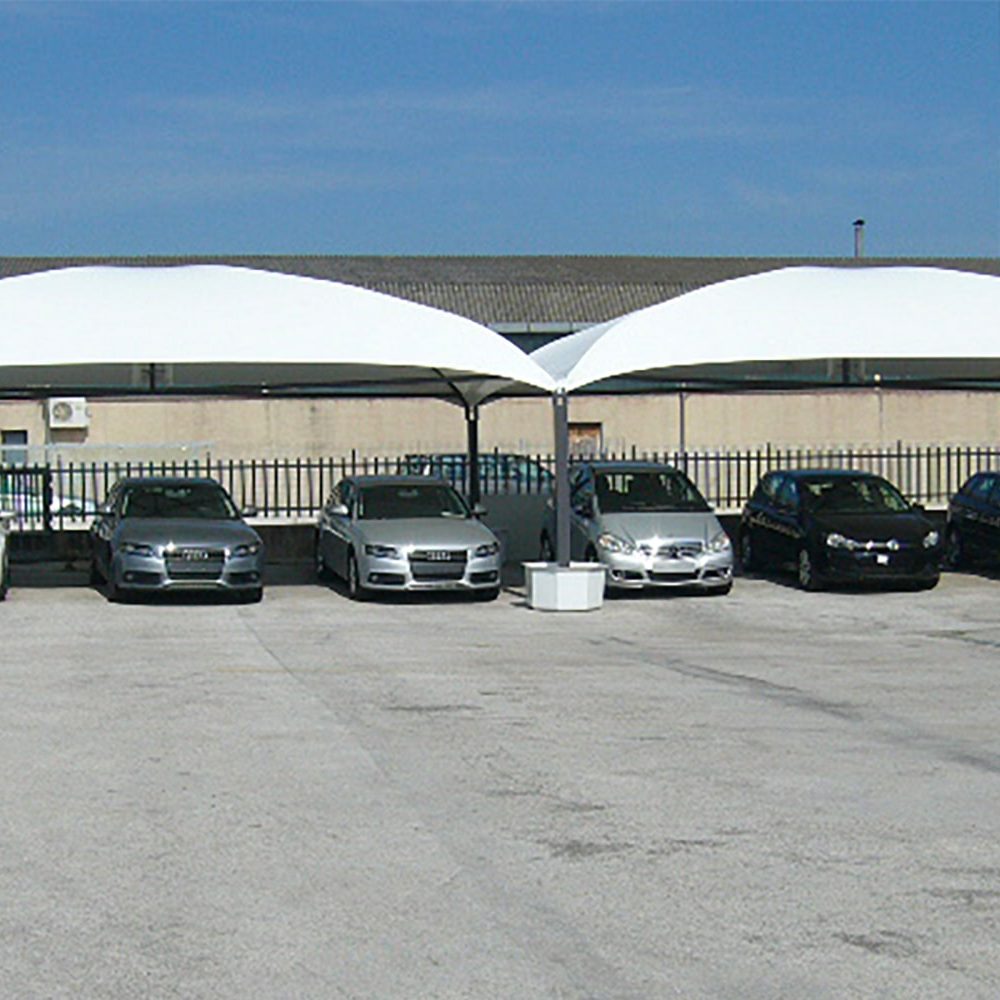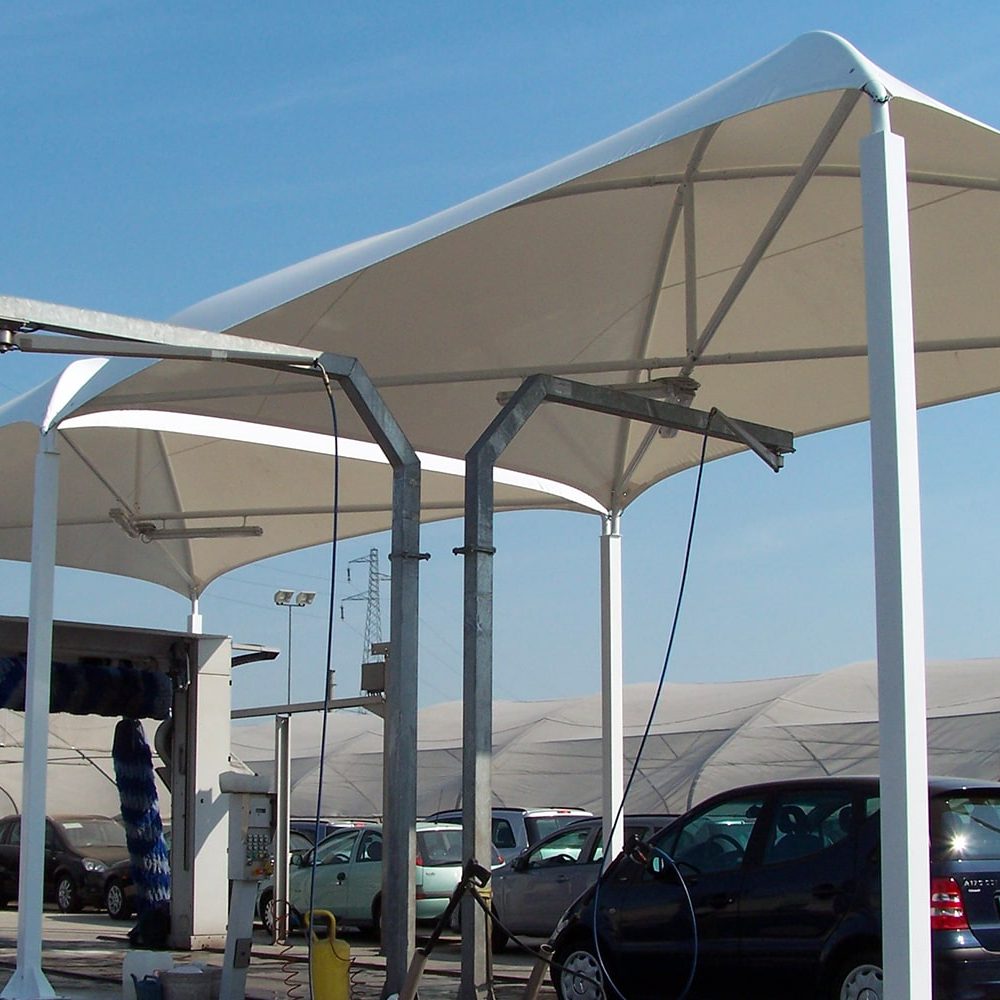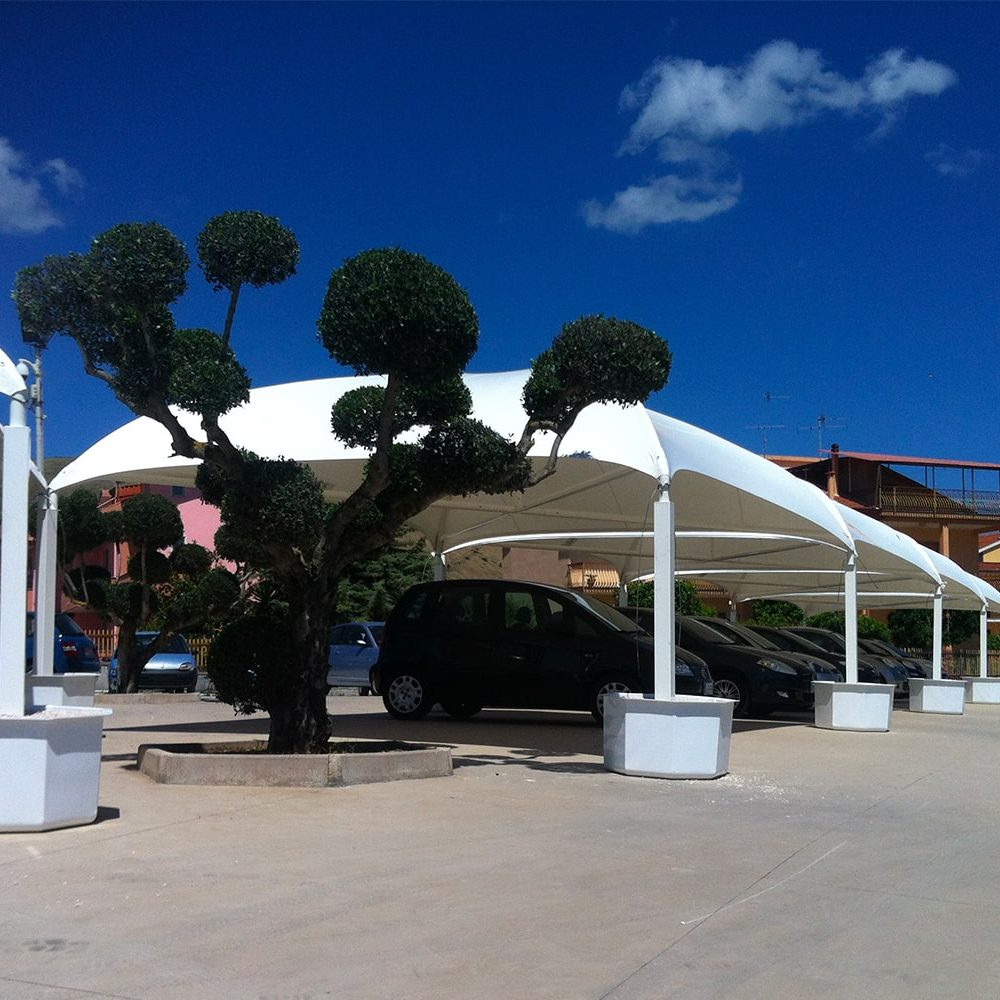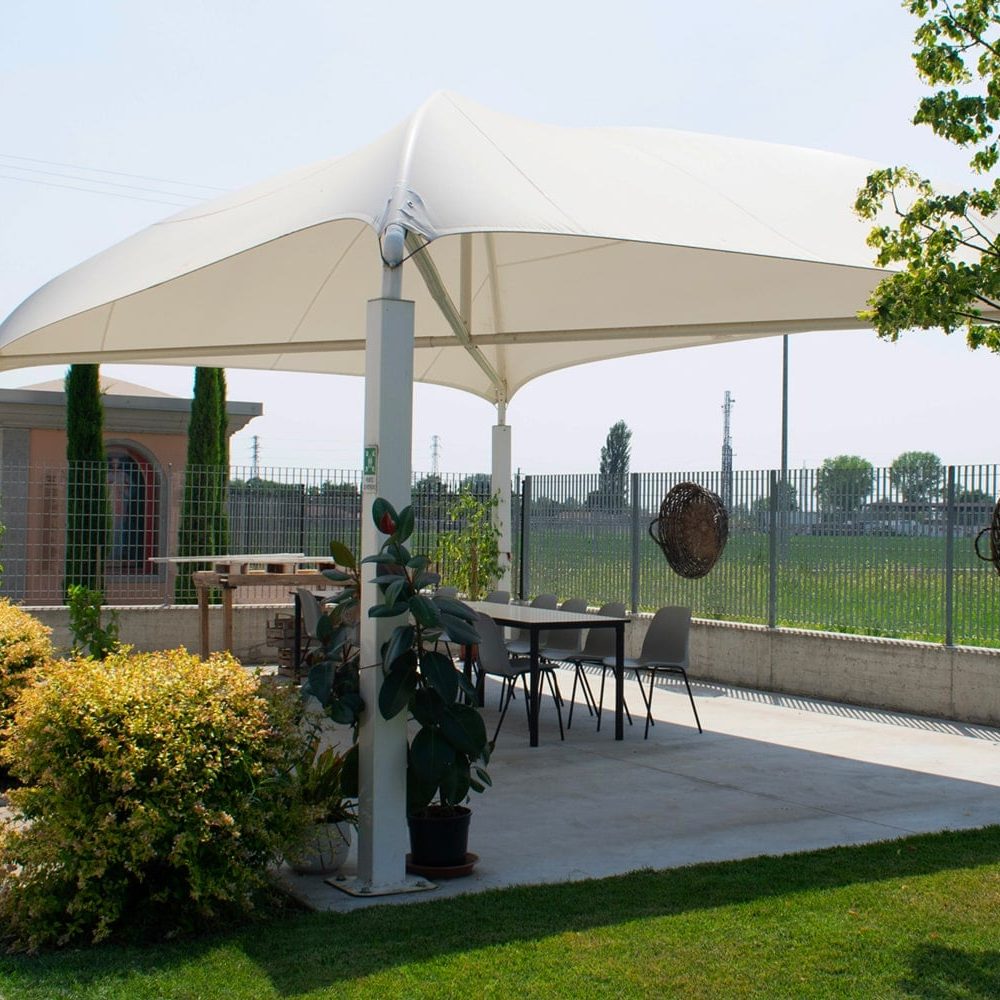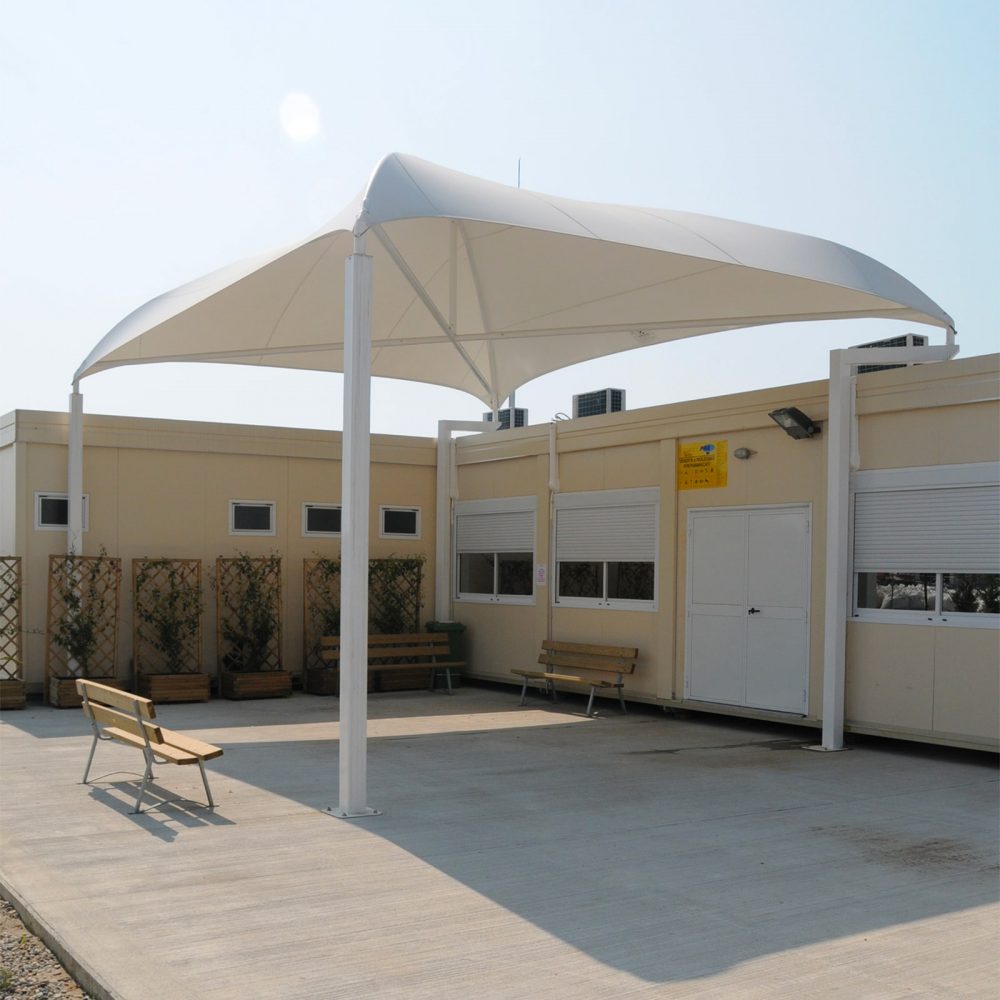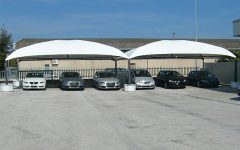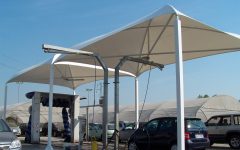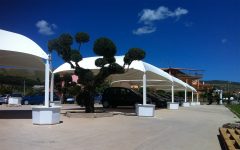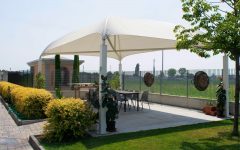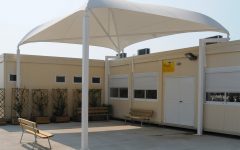 Carports
Structure suitable for vehicles covering.
PVC carports with structure made up of elements in hot galvanized steel, bolted and welded to give greater resistance.
The main elements are cross-linked, all with a circular section to have a correct distribution of the weight unloading to the ground.
Specifications
Structure:
elements assembled equidistant with reinforced concrete plinths and connected together with tubular elements
Types
Shading and anti-hail carport
90% micro-perforated coverage.
Pvc carport:
shading, waterproof, resistant to snow load.
Carport with photovoltaic system:
shading, waterproof, resistant to snow load, it uses the upper cover exposed to the sun for the production of alternative energy.
Finishing

Zincato
RAL on-demand