Safe Wall partition
Safe Wall is a system to screen and protect customers and operators where it is not possible to maintain a safe distance between people.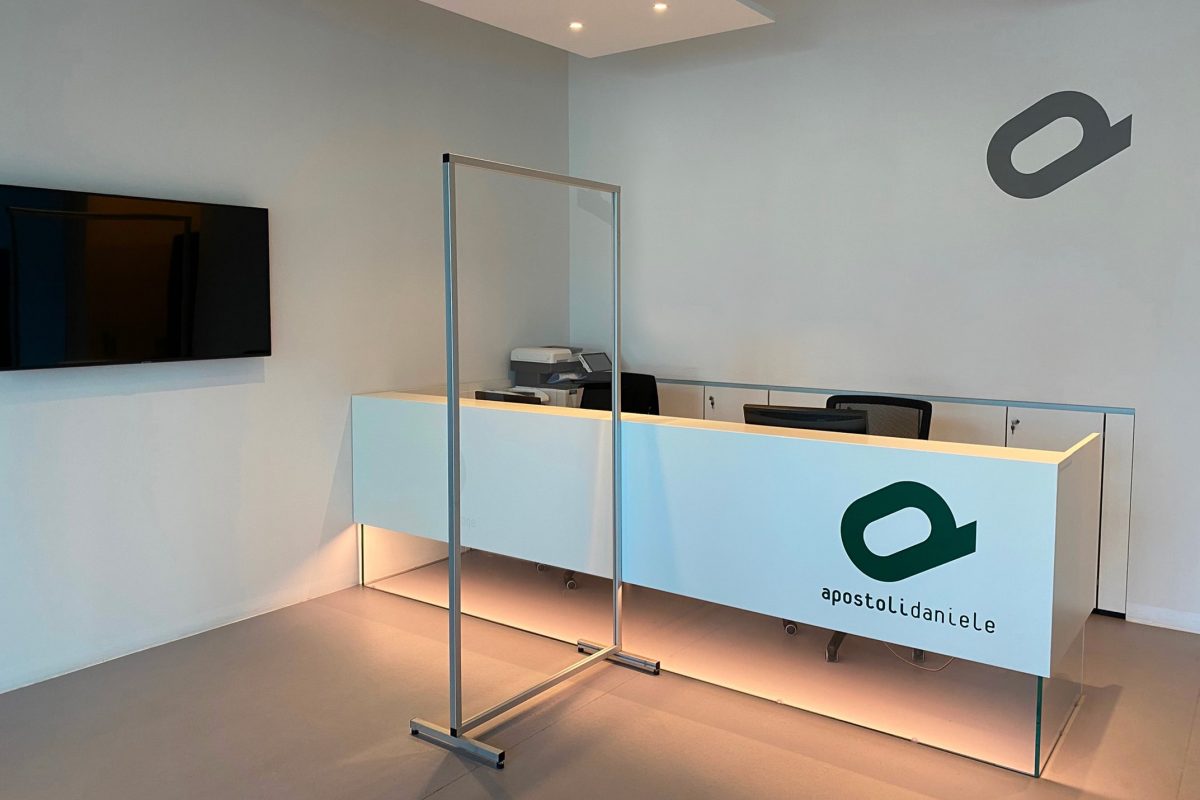 Safe Wall has been designed with extreme functionality: preserving the transparency capable of giving visibility and brightness to the environments; proposing options capable of satisfying the different working needs with cut-outs along the panel; structured to be easily placed in various contexts different from each other by means of modular or corner systems.
The materials with which it is made are designed to ensure the best performance over time and selected for ease of cleaning or maintenance.
---
Tax credit at 50%
With the DL 8 April 2020, 23 art. 30, the discipline introduced by the Cura Italia decree-law is also extended to the expenses for the purchase and installation of other safety devices designed to protect workers from accidental exposure to biological agents or to ensure interpersonal safety distance (eg . barriers and protective panels).
The amount of the tax credit is equal to 50% of the incurred costs up to 31 December 2020 and it cannot exceed the maximum amount of 20,000 euros for each beneficiary.
Ask for a quote or free consultation
Contact us without obligation for more information or to receive a quote.
Safe wall protective partition
A functional solution, visually not very impactful and designed to be easily accessible. Safe Wall is the most suitable system for the protection of people in public places, offices, commercial activities and production plants.
Safe Wall proudly ranks among the most sensitive solutions to current market demands, with the possibility of custom-made supplies capable of satisfying the most demanding technical and aesthetic requests, completely custom-made.
Advantages
Versatility:
: made with modular or corner systems that adapt themselves to all environments
Transparency:
for a total visibility and brightness of spaces
Materials:
designed to ensure the best performance over time and selected for ease of cleaning or maintenance
Specifications
Installation:
suitable for indoor and outdoor use, designed for floor installation by means of dowels
Structure:
profiles in tubular steel painted black, RAL colour on request. Glazing bead in press-curved zinc coated steel
Panel:
high transparency 5mm thick plexiglass sheet
Features:
modular system – easy cleaning and maintenance – rapid installation – minimal space – high visibility
Optional:
cutouts inside panel –glazed wall – glass decal or signages– walls with 90 ° angle– ballast plates – structure with RAL of your choice – custom-made project